Whether creating your content on our content editor or uploading your latest campaign, Studio lets you to distribute content across your entire network with just a few clicks.

Our Content Management System (CMS) is compatible with a range of digital media players and signage-on-chip setups. This delivers powerful results while saving you time and effort.
What is the function of Studio?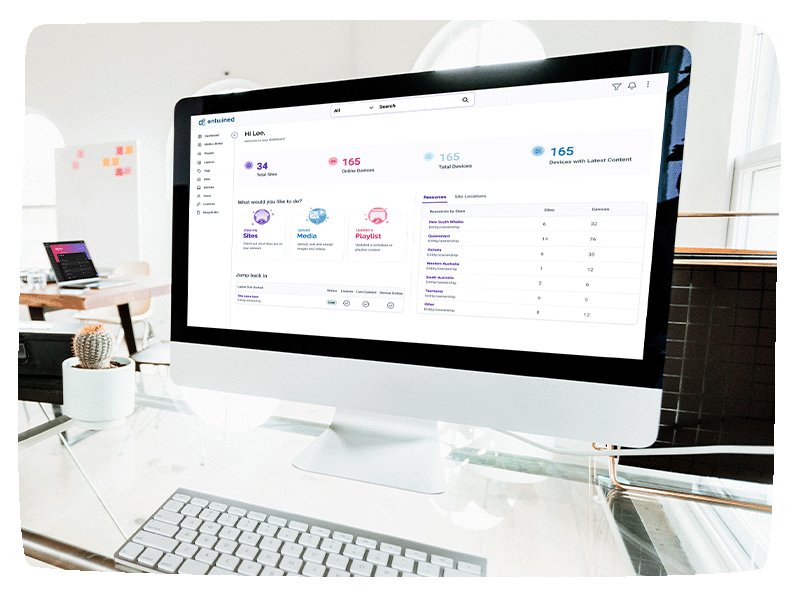 Content Management System
Studio's user-friendly interface allows you to streamline your content planning process to ensure a seamless experience for your customers. The content management system lets you upload your content, create custom playlists and publish them to your screens with just a few clicks.
You'll even get a complete overview of what's playing on each screen across your network.
Content Creation
Our WYSIWYG editor lets you create your content directly on the content management system. Just drag and drop images, videos and text directly onto your canvas and it'll appear exactly as designed on your screens.
We've taken out any technical knowledge required so that creating on-brand content for your screens is easier than ever.
Plug-and-Play
We've built studio to integrate seamlessly with your existing network. Whether you're upgrading your hardware or just refreshing your systems, complex installations are a thing of the past.
The Studio content management system can be set up in minutes, so you'll have more time to focus on creating engaging content for your audience.
Real-Time Updates
Make up to the minute changes as frequently as you like. Content updates will be reflected on screens in as little as 5 minutes.
Studio ensures that outdated content is a thing of the past.

Intuitive Interface
Make publishing content to your network the easiest part of your day

Flexible Layouts
Build custom layouts for any setup you need

Content Editor
Edit and create content directly on MyEntwined Studio

Global Publishing Function
Publish content to all screens in a site with just one button

Custom Permissions Setup
Set up permissions for your organisation based on your needs and preferences

Support
Access Entwined's team of experts whenever you need a hand
Request a demo
Studio makes managing digital content easier than ever. Get in touch today to explore how we'll be able to enhance your customers' in-store experience.
Check out our other MyEntwined products
Dashboard
Your centralised solution for efficient digital signage management
Support Portal
Manage your digital signage with customer and technical support
Failover
Stay connected and always on - never have a blank screen again