Optus is a leading telecommunications company in Australia that provides mobile, broadband, and entertainment services to individual and business customers
Yes Optus Stores (YOS) is the retail arm of Optus Networks in Australia. With over 400 retail sites in Australia, we deliver digital signage for this large, complex deployment.
Bourke Street Mall
Optus Flagship Store: Immersive Retail Innovation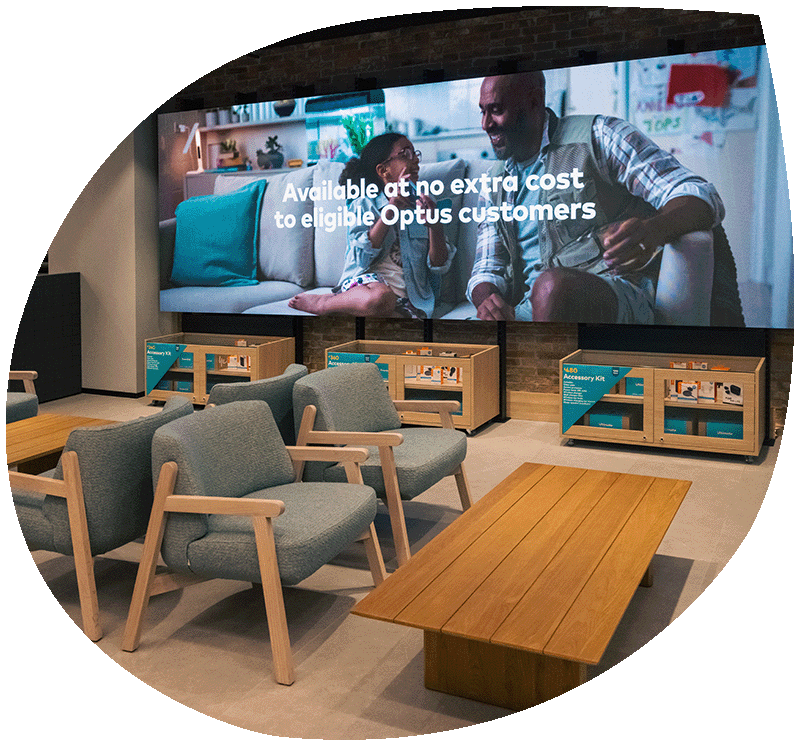 Objectives
The project's primary objective was to refresh Yes Optus Store (YOS) in Bourke Street, in the heart of Melbourne's CBD.
From a digital signage perspective, our goal was to leverage innovative digital signage solutions to provide interactive experiences and showcase unprecedented user-centric technology. We also needed to ensure that we were providing Optus with enough flexibility and control to address their customers' changing needs and allow for major promotions to take over all the screens in-store.
An important secondary goal was to respect the location of Optus' latest flagship store. Located in the heart of Melbourne's CBD, we wanted to create a cultural destination that provides a uniquely Melbourne experience and responds to the needs of their local customers. Along with showcasing Optus' entertainment, sports and content offerings, we also wanted to highlight their sponsorships and community programs to create a truly inclusive experience.
Our Solution
Our team successfully implemented various dynamic digital signage solutions for the Optus Bourke Street Flagship Store. These innovative solutions encompassed a range of enhancements, including the deployment of 40 square meters of LED displays, 10.5 square meters of LCD screens distributed across 31 individual endpoints, and carefully integrated curated audio elements.
Our holistic approach has transformed the store into an immersive and interactive space, designed to delight customers at every turn. This transformation translated into increased foot traffic, heightened brand loyalty, and improved sales performance.
Optus Bourke Street Flagship Store now stands as a true example of the future of telecommunications retail, establishing new industry standards for engaging and innovative shopping experiences.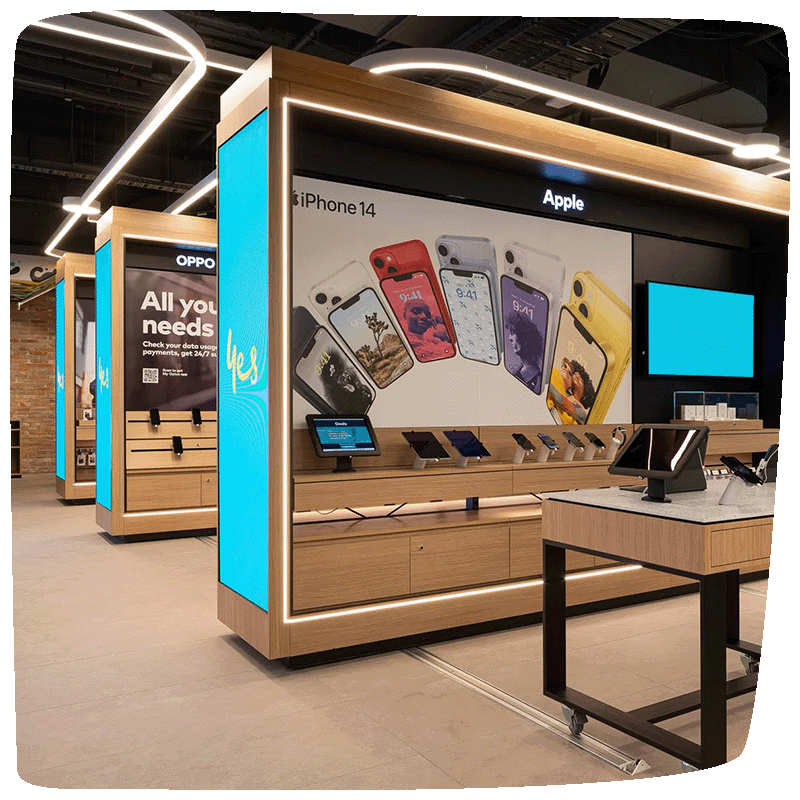 These solutions included:
Business Bay Hub: The Business Bay Hub is designed to appeal to business professionals, offering a showcase of Optus' cutting-edge products and services specifically tailored to businesses. It also provides expert guidance to empower businesses through technology, making it a valuable resource for entrepreneurs and professionals seeking to stay ahead in the digital age.
LED Screens: Strategically positioned LED screens throughout the store effectively promote Optus services with dynamic content and vibrant displays. These screens not only inform customers but also captivate their attention, instilling confidence in the brand's ability to deliver cutting-edge technology and innovative solutions, thus creating an informative and exciting shopping environment.
Compactus Banners: Compactus Banners serve as clear labels for store sections, enhancing navigation and customer convenience. These eye-catching banners make it easier for shoppers to find their way through the store while also adding visual appeal.
Large Format LCD Displays: Strategically placed large format digital screens play a pivotal role in guiding, informing, and engaging customers. These screens go beyond mere information delivery; they also create an immersive in-store environment, heightening the overall shopping experience by providing guidance, information, and entertainment.
Gaming Zones: The Gaming Zones are designed with gaming enthusiasts in mind. The Gaming Wall caters to console gamers and provides hands-on experiences with the latest Xbox and PlayStation consoles and games. The Game On Zone, on the other hand, is tailored for desktop gamers, offering them a chance to immerse themselves in the latest gaming experiences. These areas add a unique and interactive dimension to the shopping experience.
Promotional Zone: The Promotional Zone employs engaging digital signage to attract customers with exclusive deals and exciting events. Thanks to real-time updates, it is a versatile tool for promoting Optus' offerings, creating a visually compelling environment that keeps customers informed and engaged. This dynamic approach leads to increased sales and brand loyalty.
Outdoor Pillars: Visual displays on the Bourke Street Mall pillars create a distinctive and memorable presence, drawing the attention of passersby and reinforcing Optus' brand recognition. These displays are a powerful advertising tool, effectively communicating the brand's identity and value proposition, and enhancing the chances of converting foot traffic into potential customers.
Integrated Audio Systems: Integrated audio systems complement the visual content by providing immersive sound experiences, effectively enveloping customers in the Optus brand. This sensory synergy significantly influences customer perceptions, encouraging them to stay longer and engage more with the brand's products and services, ultimately resulting in increased sales and customer satisfaction.
Centralised Hardware: The incorporation of a centralised hardware infrastructure represents a pivotal technological advance for Optus. This sophisticated system empowers the company to orchestrate content management and control of its digital signage network with unparalleled efficiency and precision, ensuring that the messaging is uniform and synchronized across its entire retail network.
Dedicated Audio Bays: Strategically placed throughout the store, dedicated audio bays deliver superior sound quality in specific sections, enriching the overall sensory experience for customers. With zoned audio and soundbars connected to displays, customers can immerse themselves in each zone, enhancing the overall atmosphere and shopping experience. Background music throughout the store further enhances the ambience and provides an audio backdrop to the shopping experience.
Our team embarked on a mission to transform the YOS experience, introducing many captivating and interactive solutions. These solutions transformed the store into engaging spaces that enhanced customer experience and brand engagement.
The Result
The implementation of digital signage solutions at Optus' Bourke Street Flagship Store has yielded remarkable results. Customer engagement and satisfaction levels have substantially increased, directly contributing to heightened brand loyalty and increased sales. The dynamic and immersive store environment created by our solutions effectively captured customers' attention, motivating them to explore Optus' diverse products and services.
The partnership between Optus and our team not only revitalised the retail experience but also reinforced Optus's brand presence and reputation within the highly competitive telecommunications industry.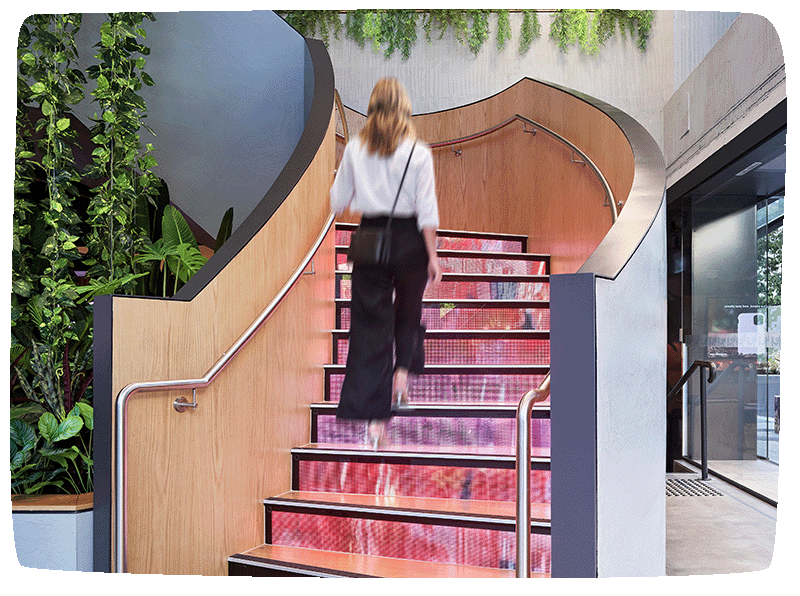 Case Study
Optus Queen Street
Discover our award winning solution to deliver hardware and software for a sophisticated flagship YOS store in Brisbane's Queen Street Mall.
Discover more customer experiences
Government
A connection of digital kiosks with real-time transit information and communication portal for Redland City Council
Retail
Multiple digital endpoints with a mixture of LED, wayfinding, panels and sound displays for Supercheap Auto


QSR + Drive-thru
Innovative technologies for Euro Garage with integration points between the POS and drive-thru systems