The local government area stretching along the southern coast next to Brisbane
Their goal was to deliver a connected network of digital kiosks for the public that can be used for both real-time transit information and as a communication portal for council and local business advertising.
Our Solution
We supplied vertical outdoor bus-stop plinths in single and dual-screen form factor, which take a data feed directly from the public transport agency to provide real-time route information, as well as advertisements and important council broadcasts.

The supplied display panels are LG high-brightness, open-frame screens, designed to be weather and vandal proof. They are protected by a toughened glass screen with infrared heat-reducing technology and feature anti-reflection treatment.

Active ventilation keeps all components cool, and the Entwined Panel Intelligent Management System (PIMS) allows for real-time monitoring.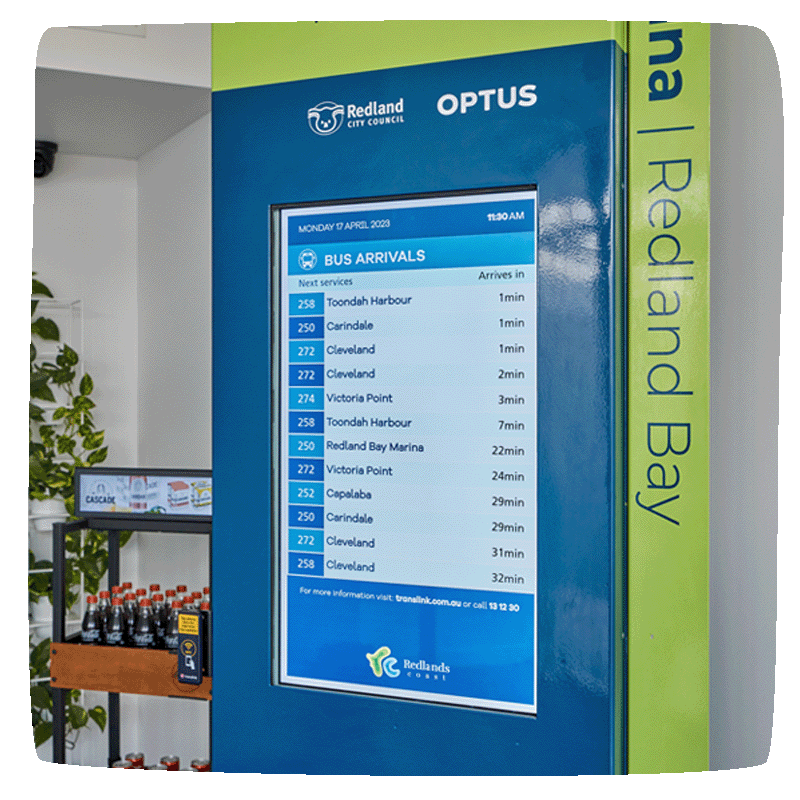 The Result
The integrated system enhances public engagement, promotes local businesses, and provides a seamless journey experience for travellers in and around the authority. It also maximises operating capacity and provides a higher level of supportability and troubleshooting for Council.
Discover more customer experiences
Retail
Award winning uniquely personalised augmented and mixed-realty experiences for Optus customers
QSR + Drive-thru
Innovative technologies for Euro Garage with integration points between the POS and drive-thru systems
Retail
Multiple digital endpoints with a mixture of LED, wayfinding, panels and sound displays for Supercheap Auto